Messages from the Dean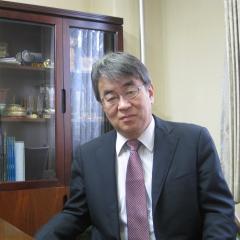 The Faculty of Health Sciences in the School of Medicine is a comparatively new faculty compared with others in Kobe University, having been established in 1994. It offers four majors, comprising Nursing Sciences, Medical Technology, Physical Therapy, Occupational Therapy, and has trained numerous outstanding nurses, nurse midwives, public health nurses, clinical laboratory technicians, physiotherapists for work on the front line of healthcare. A feature of the Faculty of Health Sciences is that in addition to students who go on to obtain national qualifications and work as specialist medical professionals, many others find jobs in government agencies, educational institutions, research institutes, international health organizations, and companies concerned with health sciences.
Features of teaching in the Faculty of Health Sciences include:
(1) Students receive and interprofessional education (IPE) that prepares them to work in medical teams in collaboration with members of many other healthcare professions, and the faculty has a history of its graduates going on to engage in interprofessional work (IPW).
(2) We train medical specialists who possess both who possess a high level of expertise and a wide range of knowledge. In the Nursing Sciences course, nurse midwifery and public health nursing training has been transferred to the Graduate School, and during undergraduate study students acquire a thorough grounding in nursing science, from its fundamentals to its application.
(3) Fourth-year students spend a significant amount of time on a supervised graduation research project, which not only gives them a taste of high-level research but also provides the foundation for a wide range of future options.
Undergraduate students take a large number of lectures and practical courses, and as their knowledge and scholarship increases, in recent years an increasing number of students have gone on to graduate school to broaden and deepen their studies further. The Graduate School of Health Studies offers places for 54 students in the Master's Course and 25 in the Doctoral Course each year. In addition to the core disciplines covered by the Department of Nursing, Department of Biophysics (clinical laboratory technology), and the Department of Rehabilitation Studies (physiotherapy and occupational therapy), the Graduate School also includes two integrated disciplines, the Department of Community Health Sciences and the Department of International Health.
Features of the Graduate School of Health Sciences include:
(1) We train high-level specialists and researchers. From 2016, midwifery and public health nursing training has been transferred to the graduate level. We also train professionals in a broad range of medical science-related fields in addition to medical professionals.
(2) We have a focus on global education. In 2012 we began offering the International Course for Health Sciences (ICHS), which allows students to complete their degree by acquiring credits through modules taught entirely in English. Student exchange schemes and joint research projects with leading Asian universities in Thailand, Indonesia, and elsewhere were also launched in 2012. This program is also open to undergraduates.
(3) Kobe University consists of 11 faculties and 14 graduate schools, and we are taking advantage of its nature as one of the general universities in Japan that balances the humanities and sciences to engage in joint research projects and other collaborative efforts.
(Dean, Graduate School of Health Sciences, Yoshiaki KIDO)